The Best Way to Declutter Your Living Room to Sell Your Home in Lakewood
Posted by Concierge Van Wig & Associates on Friday, September 3, 2021 at 5:24 AM
By Concierge Van Wig & Associates / September 3, 2021
Comment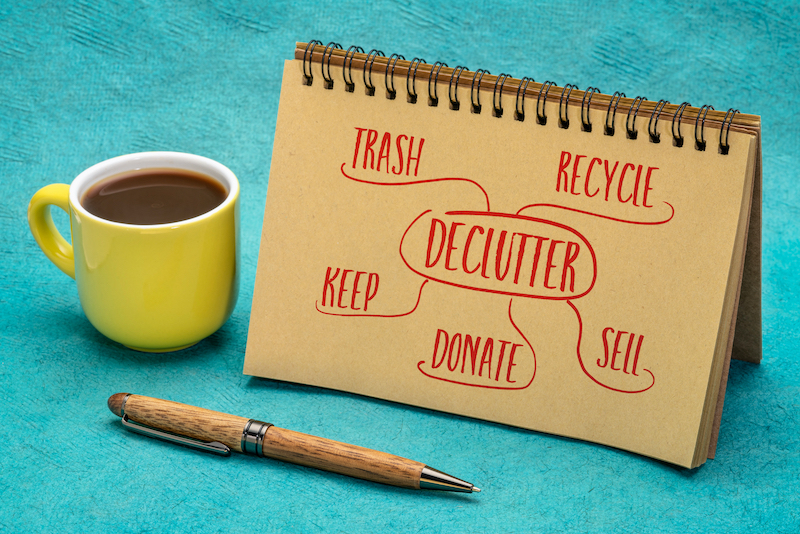 If you're selling your home in Lakewood or Long Beach, your REALTOR® will talk to you about decluttering – even if your house doesn't appear cluttered. The main goal with decluttering is to show prospective buyers how much potential your home has, and that means taking out everything that isn't absolutely necessary to help buyers imagine their stuff in your space. This guide explains the best way to declutter your living room to sell your home in Lakewood or Long Beach.
The Best Way to Declutter Your Living Room to Sell Your Home in Lakewood
Living rooms end up being catch-all spaces in many homes. You might find bills on the coffee table, a book on the end table, extra "décor" on the mantel and kids' toys all over the floor. The first step in decluttering the living room is to clear out items that have homes elsewhere (such as kids' toys that belong in bedrooms or playrooms). After you've removed every item that doesn't already belong in the living room, follow these steps to declutter the space:
Go for recyclables and trash first
Set up and use bins for every household member
Pull out items you want to donate
Get recyclables, trash and items you want to donate out of your house
Here's a closer look at each.
Step #1 to Declutter Your Living Room: Go for Recyclables and Trash First
Look for "easy stuff" like old magazines, paperwork and other items you don't need. Put everything in a recycling bag and put it near your front door.
Related: How to update your home on a budget: 3 easy tips
Step #2 to Declutter Your Living Room: Set Up and Use Bins for Every Household Member
Items that belong to different family members that could go somewhere else belong in bins that those people can take care of themselves. For example, if your teen routinely leaves books on the coffee table, put them in a bin – your teen can be responsible for putting them where they belong. If your spouse leaves slippers near the end of the sofa, stick them in the "Spouse" bin. You get the picture!
Step #3 to Declutter Your Living Room: Pull Out Items You Want to Donate
Go through all the items that remain in the room and decide whether there's anything you can donate. That goes for "decorative" items that end up on your mantel or end tables; if you're not sentimentally attached to them, it may be time to get rid of them.
Related: 4 things to paint for spectacular curb appeal
Step #4 to Declutter Your Living Room: Get Everything Out of Your House
After you're finished sorting through what to donate, throw out or recycle, get everything out of your house. Ideally, you'll do this on the very same day. That way, it's "out of sight, out of mind."
Are You Buying or Selling a Home in Lakewood?
If you're not already living in Lakewood, or if you are but you're looking for a new home, we're here to help. Call us right now at 562-882-1581 or start browsing our Lakewood real estate listings to find your dream home today!
You can also browse:
Long Beach real estate listings
Bellflower real estate listings