The 5 Most Important Questions to Ask a Real Estate Agent Before Hiring Them
Posted by Allison Van Wig on Friday, April 14, 2023 at 7:00 AM
By Allison Van Wig / April 14, 2023
Comment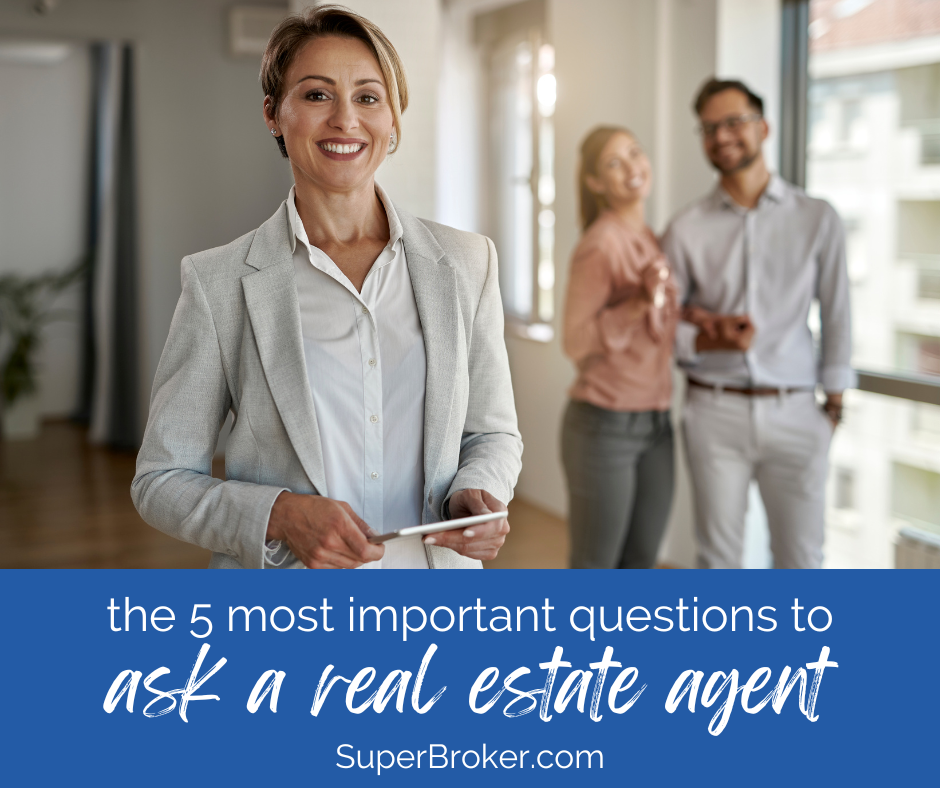 Buying or selling a home can be a complicated process, and it's essential to have a trusted real estate agent by your side. However, not all agents are created equal, and it's important to ask the right questions before hiring one. Here are the five most important questions to ask a real estate agent before hiring them.
What Is Your Experience in Real Estate?
The first question you should ask a potential real estate agent is about their experience in the industry. It's important to work with an agent who has a track record of success and has experience working in your local market. Ask how many years they've been in the business and how many transactions they've completed. A seasoned agent will have a better understanding of the market and will be able to provide valuable insights and advice.
Related: 5 home improvements that could increase your property's value
How Will You Help Me Achieve My Real Estate Goals?
When hiring a real estate agent, you want someone who will help you achieve your real estate goals. Whether you're buying or selling a home, ask the agent how they plan to help you achieve your goals. A good agent should be able to provide a clear plan of action and communicate how they will help you navigate the process. They should also be able to provide insight into the current market conditions and how they may impact your goals.
What Is Your Communication Style?
Communication is essential when working with a real estate agent. You want an agent who will keep you informed throughout the process and respond promptly to your questions and concerns. Ask the agent how they prefer to communicate and how often you can expect to hear from them. Some agents may prefer email, while others may prefer phone calls or text messages. Find an agent whose communication style works best for you.
Related: How to choose the right lender for your next home purchase
How Will You Determine the Value of My Home?
If you're selling your home, it's important to work with an agent who can accurately determine its value. The agent should be able to provide a detailed comparative market analysis (CMA) that shows how they arrived at the value. Ask the agent how they plan to price your home and what factors they consider when determining its value. A good agent will account for factors like the home's location, size, age, and condition, as well as current market conditions.
Related: 10 great reasons to invest in real estate in Long Beach
What Are Your Fees?
Finally, it's important to ask the agent about their fees. Real estate agent fees can vary widely, so it's essential to understand how the agent is compensated and what fees you will be responsible for. Most agents work on a commission basis, which is typically a percentage of the sale price of the home. Ask the agent what their commission rate is and whether there are any other fees you should be aware of. It's also a good idea to ask about any fees you may be responsible for if the transaction falls through.
Related: 5 neighborhoods to explore in Long Beach and Lakewood
Hiring the right real estate agent can make all the difference in your home buying or selling experience. By asking the right questions, you can find an agent who has the experience, communication style, and expertise to help you achieve your real estate goals. Remember to ask about their experience, how they plan to help you achieve your goals, their communication style, how they determine the value of your home, and their fees. With the right agent by your side, you can navigate the complex world of real estate with confidence.
Are You Buying or Selling a Home in Lakewood?
If you're not already living in Lakewood, or if you are but you're looking for a new home, we're here to help. Call us right now at 562-882-1581 or start browsing our Lakewood real estate listings to find your dream home today!
You can also browse:
Long Beach real estate listings
Bellflower real estate listings
Signal Hill real estate listings