How to Attract Great Offers When You Sell Your Home in Lakewood
Posted by Allison Van Wig on Monday, April 3, 2023 at 7:00 AM
By Allison Van Wig / April 3, 2023
Comment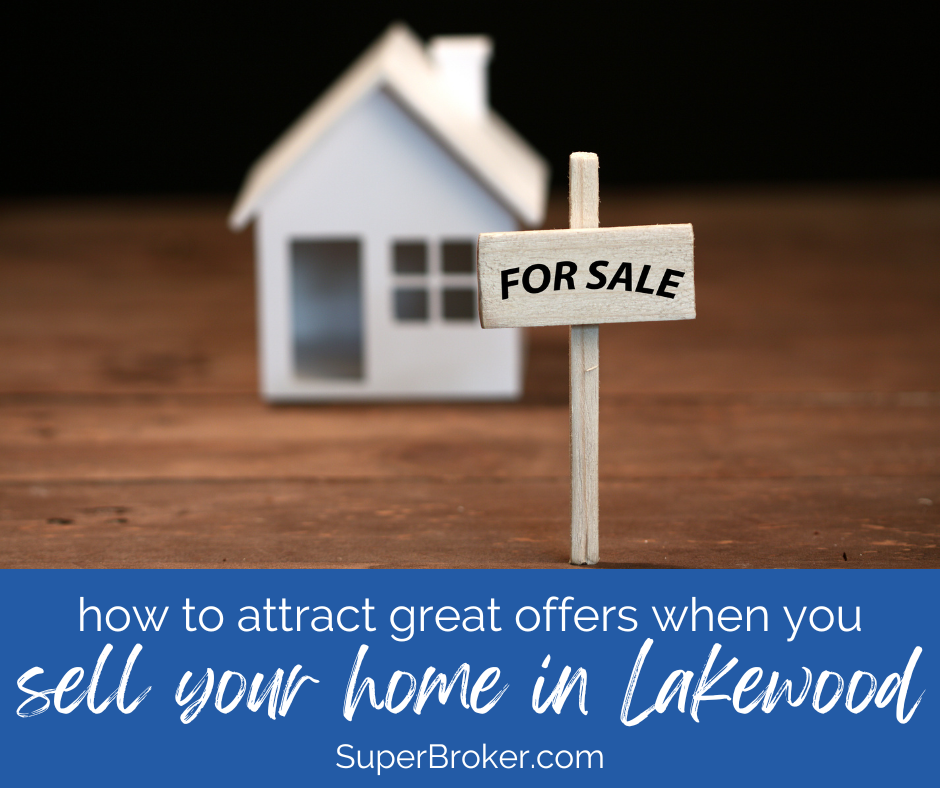 Selling your home in Lakewood can be an exciting and potentially profitable experience, but it's essential to know how to attract great offers from potential buyers. In this article, we'll share some tips and strategies for making your home stand out and enticing buyers to make an attractive offer.
Choose the Right Real Estate Agent
One of the most critical decisions you'll make when selling your home is choosing a real estate agent. A knowledgeable, experienced agent can help you set the right price, market your home effectively, and negotiate the best possible deal. Here are some tips for finding the perfect agent:
Look for agents with a strong track record of selling homes in Lakewood
Check online reviews and ask for references from past clients
Interview a few agents to find the one who understands your needs and has a compatible communication style
Price Your Home Competitively
Pricing your home correctly is key to attracting great offers. Overpricing can deter potential buyers, while underpricing may result in a lower profit than you deserve. Your real estate agent can help you determine the best price by analyzing comparable homes that have recently sold in your neighborhood.
Related: 10 great reasons to invest in real estate in Long Beach
In addition to looking at comparable sales, consider the following factors when setting your price:
The current state of the local real estate market
The unique features and upgrades of your home
The time of year and any seasonal fluctuations in demand
Prepare Your Home for Sale
First impressions are crucial when it comes to attracting great offers for your home. Take the time to prepare your home for sale by addressing any needed repairs, decluttering, and deep cleaning. Here are some additional tips for making your home as appealing as possible:
Repaint walls in neutral colors to make your home feel fresh and bright
Replace dated fixtures, hardware, and appliances for an updated look
Stage your home with attractive furniture and decor to help buyers visualize themselves living there
Related: 5 neighborhoods to explore in Long Beach and Lakewood
Invest in Professional Photography and Marketing
High-quality photos and marketing materials can make a significant difference in attracting potential buyers to your home. Consider hiring a professional photographer to take photos of your home that highlight its best features. Your real estate agent can help you create compelling marketing materials, including:
Eye-catching flyers and brochures
Engaging online listings with virtual tours or video walk-throughs
Targeted social media and email marketing campaigns
Be Flexible with Showings
The more potential buyers who view your home, the more likely you are to receive great offers. Make your home available for showings as often as possible, and try to be flexible with scheduling. If you're still living in the home, consider the following tips to make showings less stressful:
Keep your home clean and show-ready at all times
Develop a plan for quickly tidying up and leaving the house when a showing is scheduled
Arrange for a place to go, such as a park or coffee shop, while your home is being shown
Related: 5 home improvements that could increase your property's value
Consider Hosting an Open House
Hosting an open house can be an excellent way to attract potential buyers and generate buzz about your home. Work with your real estate agent to plan and promote the event. Here are some tips for hosting a successful open house:
Schedule the open house during a time when many buyers are likely to be available, such as a weekend afternoon
Ensure your home is spotless and well-staged
Provide refreshments and informational materials for visitors
Be Prepared to Negotiate
Receiving a great offer is only part of the home selling process. You'll also need to be prepared to negotiate with potential buyers on price, closing dates, and other terms. Your real estate agent can offer valuable guidance and help you navigate the negotiation process to achieve the best possible outcome.
Are You Buying or Selling a Home in Lakewood?
If you're not already living in Lakewood, or if you are but you're looking for a new home, we're here to help. Call us right now at 562-882-1581 or start browsing our Lakewood real estate listings to find your dream home today!
You can also browse:
Long Beach real estate listings
Bellflower real estate listings
Signal Hill real estate listings