9 Fees You Can Expect to Pay When You Use a VA Loan to Buy a Home in Lakewood or Long Beach
Posted by Allison Van Wig on Sunday, October 11, 2020 at 9:39 AM
By Allison Van Wig / October 11, 2020
Comment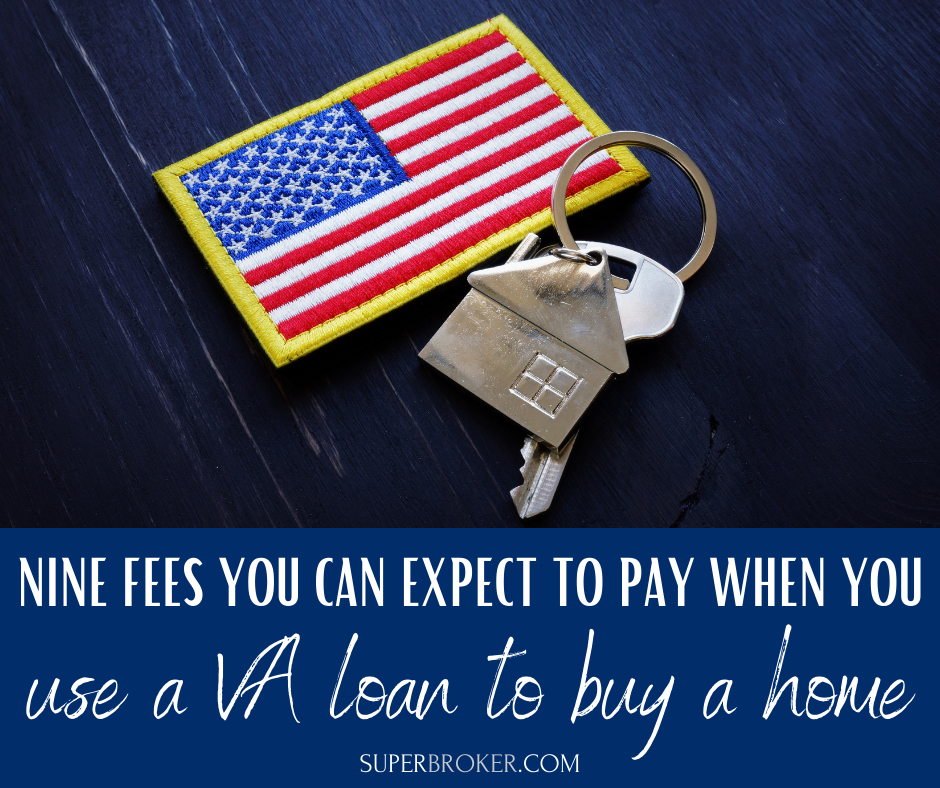 If you're like many people, you qualify to use a VA loan to buy your next home – but you'll have to pay out of pocket for a handful of costs associated with using your benefit.
Related: 3 down payment myths you can ignore
9 Fees You Can Expect to Pay When You Use a VA Loan to Buy a Home in Lakewood or Long Beach
Generally speaking, using a VA loan is the smart choice. You can buy a home with little to no down payment (without paying for private mortgage insurance, too). But check out these costs associated with using your VA loan benefit:
Appraisal fee
Credit report fees
Earnest money deposit
HOA dues
Home inspection costs
Loan origination fees
Real estate transfer taxes
Recording fees
Title insurance
Here's a closer look at each.
VA Loan Fee #1. Appraisal
Your lender will require you to pay for an appraisal before it'll give you the money to buy the home. It's a VA requirement. The appraiser will determine the home's square footage, ensure that it's worth the price the seller wants you to pay, and that it's safe, sound and clean enough to live in.
VA Loan Fee #2: Credit Report Fees
On average, you can expect to pay about $30 for your lender to run your credit report.
VA Loan Fee #3: Earnest Money Deposit
Your earnest money deposit is the cash you give a seller to show you're serious – but they don't keep it. Instead, it's later applied to your down payment or closing costs. Your earnest money deposit could range from 1 percent to 10 percent of the home's sales price; you'll have to talk to your REALTOR® about an appropriate earnest money deposit.
VA Loan Fee #4: HOA Dues
If you're buying a home in a neighborhood with a homeowners' association, you'll have to pay dues. These dues are usually payable monthly, quarterly or annually – and when you close on your home, you may have to pay an application fee, as well.
VA Loan Fee #5: Home Inspection
Your REALTOR will encourage you to get a home inspection before you sign the dotted line. It's an important part of the home-buying process because an inspector gives you an unbiased look at all the issues a property has, which enables you to make the best (and most informed) decision.
VA Loan Fee #6: Loan Origination Fees
Loan origination fees are the fees that the lender charges you for processing your loan. The VA only allows lenders to charge you up to 1 percent of the loan amount for these fees, so if you're buying a $400,000 home, you may pay up to $4,000 in origination fees. Fortunately, many lenders allow you to roll this cost right into your mortgage loan so you pay it off over time.
VA Loan Fee #7: Real Estate Transfer Taxes
Transferring a title from one owner to the other costs a little bit of cash, so talk to your Lakewood REALTOR about how much these fees are likely to cost.
VA Loan Fee #8: Recording Fees
You have to pay recording fees out of pocket when you close on your new home. These fees are what you pay the county in order to record your mortgage on the public record. Your fees will vary based on the county where the home is located.
VA Loan Fee #9: Title Insurance
Your lender will make you buy title insurance that protects the lender in case an issue comes up that challenges your ownership in the home. You can also buy a homeowner's title insurance policy – but no matter what, your lender is going to make you buy a policy that covers its investment.
Are You Buying or Selling a Home in Lakewood?
If you're not already living in Lakewood, or if you are but you're looking for a new home, we're here to help. Call us right now at 562-882-1581 or start browsing our Lakewood real estate listings to find your dream home today!
You can also browse: