7 Things You Need if You Want to Age in Place
Posted by Allison Van Wig on Saturday, February 11, 2023 at 12:46:49 PM
By Allison Van Wig / February 11, 2023
Comment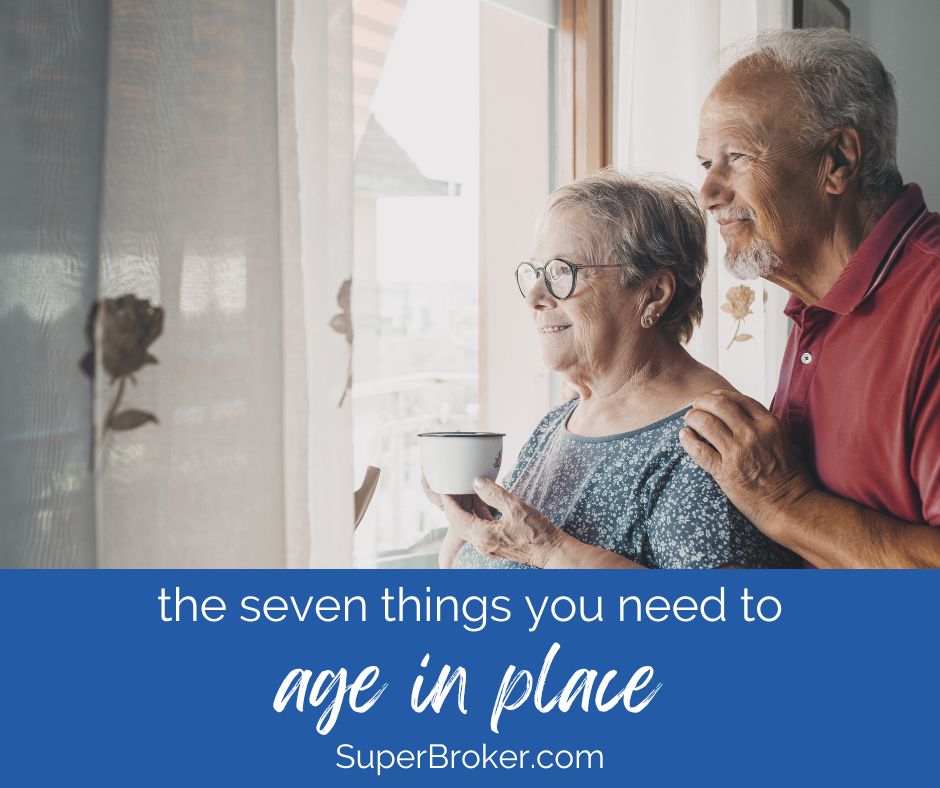 If you intend to age in place in the next home you buy, this guide has you covered. It contains the seven things you need if you plan to live in your next home forever.
7 Things You Need if You Want to Age in Place
Check out the seven things you absolutely need in your home if you intend to age in place:
Great lighting
Cabinet organizers (preferably the pull-out kind)
Grab bars on showers and near toilets
Bidets
Lever handles on your doors
Barrier-free entry to rooms
Voice-activated tech
Here's a closer look at each.
Age-in-Place Necessity #1: Great Lighting
Good, bright lighting is essential for anyone trying to age in place. Natural light is great, but if you don't have enough of it coming into your home, choose energy-efficient bulbs and fixtures with strong wattages that can provide ample lighting throughout the house.
Age-in-Place Necessity #2: Cabinet Organizers
Cabinet organizers are a must-have item for anyone aging in place. If you want to make the most of your kitchen space and ensure items are easy to access, consider investing in pull-out organizers that can go inside your cabinets. This will allow you to easily reach whatever is stored inside without needing to bend down or climb up a ladder.
Age-in-Place Necessity #3: Grab Bars
Grab bars near showers and toilets provide added safety while bathing and using the bathroom, making them an essential feature if you're considering aging in place. Look for grab bars with suction cups and strong grips that won't come loose over time or cause any damage to walls.
Age-in-Place Necessity #4: Bidets
Bidets are an ideal addition to any bathroom if you plan to age in place. They provide a more hygienic way of cleaning up after using the toilet, and they can even help reduce paper waste. Look for models with adjustable pressure settings, heated seats, self-cleaning features, etc.
Age-in-Place Necessity #5: Lever Handles
Door knobs and handles can become difficult to grasp as you start to age. To make sure your doors are easily accessible, replace door handles with lever handles instead. These will make it easier to open and close doors without needing too much strength or dexterity.
Age-in-Place Necessity #6: Barrier-Free Entry to Rooms
If you intend to age in place, make sure your home has easily accessible entryways that don't require too much effort. Invest in a wheelchair ramp or other modifications if necessary, and look for doors with minimal threshold heights to reduce the risk of falls.
Age-in-Place Necessity #7: Voice-Activated Tech
Voice-activated technology is becoming increasingly popular among people aging in place. Instead of having to physically move around or use buttons, you can control your smart devices just by speaking out loud. This will provide more independence and convenience while allowing you to stay at home safely.
Are You Buying or Selling a Home in Lakewood?
If you're not already living in Lakewood, or if you are but you're looking for a new home, we're here to help. Call us right now at 562-882-1581 or start browsing our Lakewood real estate listings to find your dream home today!
You can also browse:
Long Beach real estate listings
Bellflower real estate listings
Signal Hill real estate listings