7 Outdoor Kitchen Upgrades
Posted by Concierge Van Wig & Associates on Thursday, June 17, 2021 at 3:38 PM
By Concierge Van Wig & Associates / June 17, 2021
Comment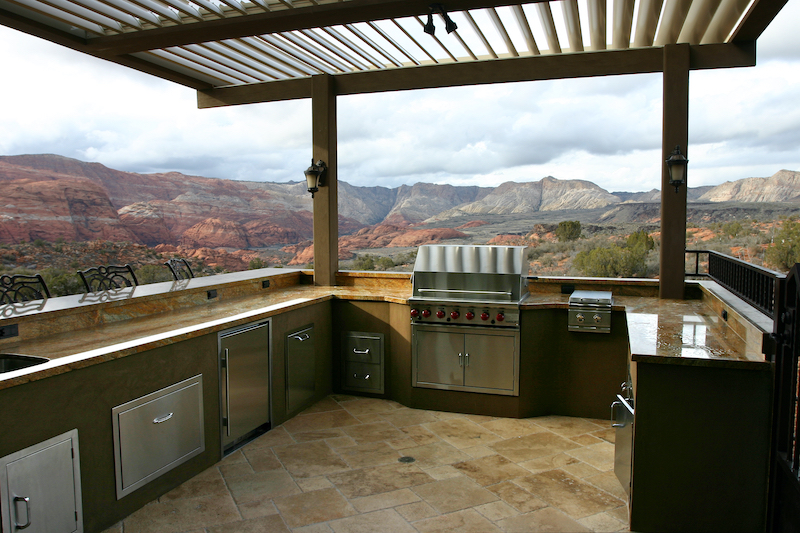 Time is running short, but you may still have a chance to surprise the father in your family with an outdoor kitchen upgrade this Father's Day. You may find some items on our list to be quick upgrades, while others may need to be integrated over time. You don't need all of these elements to create a great kitchen and outdoor space, but if you want to go all-out no one's stopping you.
Grill Station
The foundation of any outdoor kitchen is a grill station. Opt for stainless steel since it's durable and low-maintenance. Be sure that it has side burners to accommodate pots for sauces and other creations. Not only will he be able to grill hotdogs, burgers and barbecue chicken, but he can cook up a hearty seafood boil—king crab legs, shrimp, and crawfish, with grilled corn and red potatoes. Your mouth is watering.
Pergola
You and your guests will appreciate sitting beneath the shade of a pergola over a dining space on hot and humid days.
TV
He'll love the idea of a TV outside. Your guests will be able to lounge and watch the game or enjoy a movie without having to take their grilled goodies inside the house. For that reason, this might make it your favorite outdoor kitchen feature.
Pizza Oven
You can say goodbye to lukewarm delivery pizza with soggy crusts after you install a wood-fired pizza oven for your dad or significant other. Pizza ovens are usually custom built, so you should plan accordingly. Imagine a freshly-baked pizza with a crispy crust, and hot, gooey cheeses.
Mini Fridge
An outdoor kitchen isn't quite complete without a refrigerator for cold drinks, desserts, condiments, and any other items that are best kept and served cold.
Wet Bar
You can't go wrong with a wet bar that has space for guests to sit, sip drinks, and chat as he tends the grill. (You can help serve the drinks).
Dishwasher
An outdoor dishwasher is a real luxury and helps make cleanup a cinch. Be sure to plan ahead for the installation of plumbing.