5 Things NOT to Do When You Buy a Home for Sale in Lakewood
Posted by Allison Van Wig on Wednesday, January 20, 2021 at 2:50 PM
By Allison Van Wig / January 20, 2021
Comment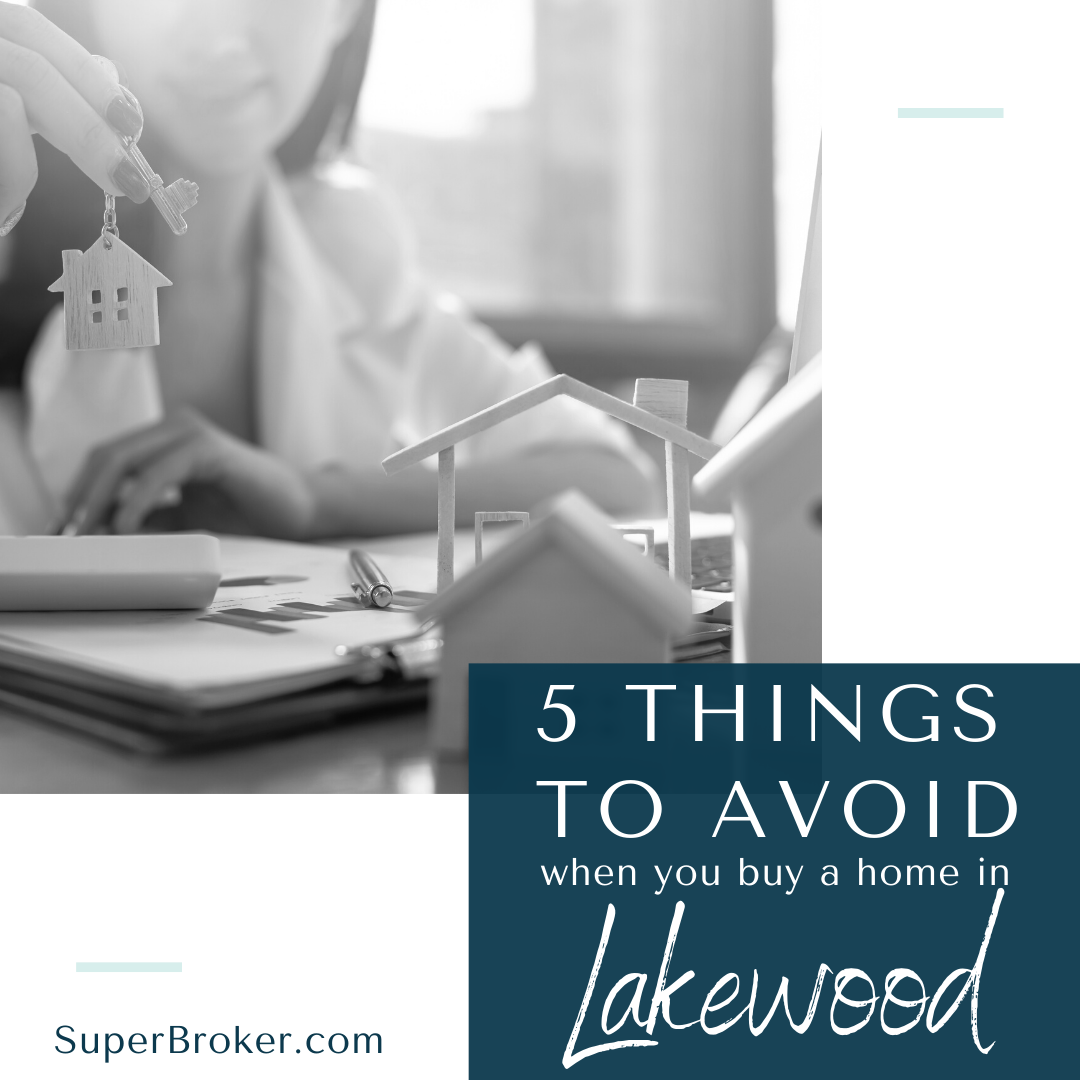 Buying a house is a big deal – and it's most likely the biggest financial transaction you'll ever make (at least until you buy your next house). So what should you watch out for along the way? Check out these five things not to do when you buy a home for sale in Lakewood.
5 Things NOT to Do When You Buy a Home for Sale in Lakewood
There are a lot of moving parts in a real estate transaction, so it makes sense to avoid common mistakes that could derail the whole deal. Here are five things not to do when you buy a home for sale in Lakewood:
Fly solo
Talk to only one mortgage lender
Wait for the "perfect" house to fall into your lap
Fail to budget for closing costs
Make a big purchase before closing
Here's a closer look at each.
Home-Buying Mistake #1: Flying Solo
It's totally fine to explore Lakewood real estate listings on your own, before you choose an agent – but if you want to see any of the homes on your list, you should work with your own REALTOR®. Your agent will schedule tours of the homes you like, make your offer for you and even handle negotiations with the seller. The biggest benefit to working with a real estate agent, however, is that your agent has a fiduciary responsibility to you; that means he or she must put your best interests first.
If you work with the seller's real estate agent, you have to realize that the seller was that agent's client first – and that the agent's fiduciary responsibility is to the seller, not to you.
Your REALTOR doesn't cost you a dime (the seller pays his or her commission), so there's nothing to worry about on that front, either.
Related: 3 things you can negotiate with sellers
Home-Buying Mistake #2: Talking to Only One Lender
There's a lot of paperwork involved in buying a home – especially when it comes to mortgage documents. For that reason, a lot of people only talk to one lender. However, that's a huge mistake. Different lenders offer different loan products, and they're able to offer different terms on mortgages, too. It's in your best interest to talk to at least three lenders to find a loan product that works best for you. Remember, most mortgages last between 15 and 30 years, so it makes sense to be careful about what you choose.
Home-Buying Mistake #3: Waiting for the "Perfect" House
There are fabulous houses for sale all over Lakewood and Long Beach – but there's no such thing as the "perfect" house. When you're house-hunting, try to look past aesthetic details that are easy (and affordable) to change so you don't miss out on your dream home. You can always ask a seller to make changes before you agree to buy – and in the worst-case scenarios, you can make changes yourself after you own the home.
That doesn't mean you should buy a house with structural damage. What it means is that if a house has carpet you hate while you love everything else, you should ask the seller to rip it up and replace it with something better.
Related: Should you ever offer more than a home's asking price?
Home-Buying Mistake #4: Failing to Budget for Closing Costs
You're going to have to pay closing costs on the day you sign your final mortgage documents and take possession of the home. Sometimes these costs can be pretty significant, totaling between 2 percent and 5 percent of a home's purchase price – so it's in your best interest to budget for them when you're figuring out how much home you can afford. Some lenders can bundle your closing costs into your total mortgage amount, though, so talk to your lender if you may need that option.
Home-Buying Mistake #5: Making a Big Purchase Before Closing
When you're approved for a mortgage loan, your lender says "yes" on the condition that your financial situation stays the same. If you go buy a brand-new car to put into your brand-new garage, you could impact your credit score – and then you might be out of luck on the brand-new garage.
Avoid making any big purchases or opening new lines of credit before you buy a home. Save those things until after you've closed so you don't run the risk of losing your loan approval.
Related: What to know about buying and selling at the same time
Are You Buying or Selling a Home in Lakewood?
If you're not already living in Lakewood, or if you are but you're looking for a new home, we're here to help. Call us right now at 562-882-1581 or start browsing our Lakewood real estate listings to find your dream home today!
You can also browse: