5 Home Staging Mistakes That Are Too Easy to Make
Posted by Allison Van Wig on Friday, February 3, 2023 at 7:00 AM
By Allison Van Wig / February 3, 2023
Comment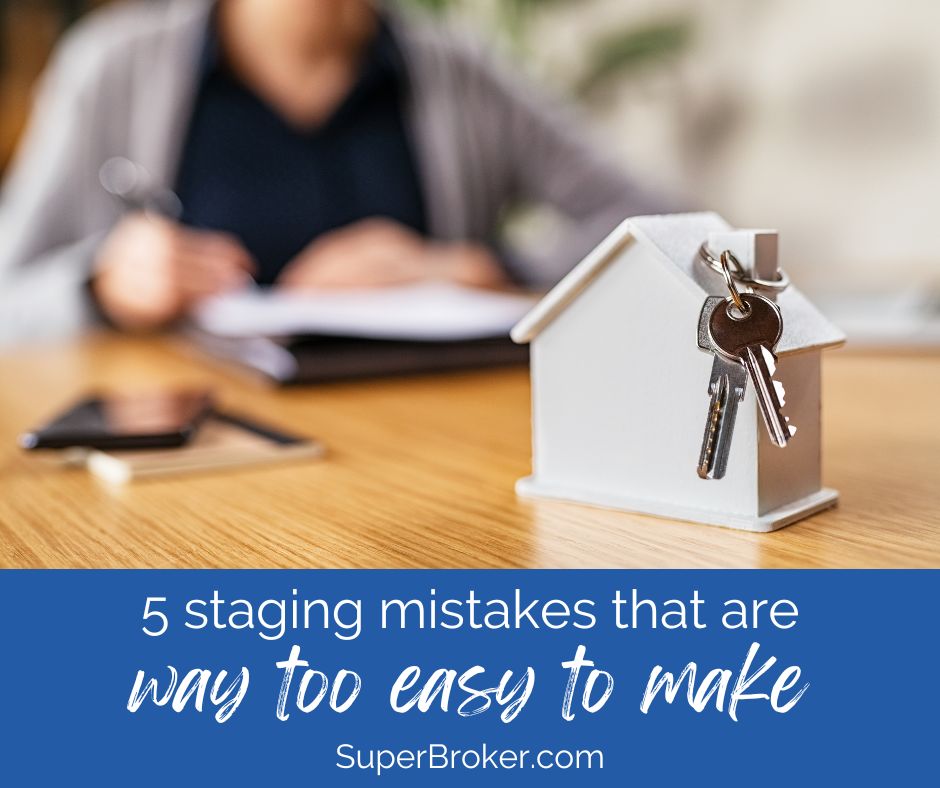 If you're like most people, you know that you need to stage your home in order to sell. But have a look at these five huge home staging mistakes that are way too easy to make.
5 Home Staging Mistakes That Are Too Easy to Make
Here are five mistakes you should avoid when you're staging your home:
Overdoing decor.
Forgetting to declutter first.
Failing to clean everything.
Leaving items on your closet floors
Leaving oversized furniture in cozy spaces.
Here's a closer look at each.
Home Staging Mistake #1: Overdoing Decor
It's easy to get carried away with the decor when you're staging your home. You want it to look nice and inviting, but you don't want it to be too cluttered or over-the-top. Keep wall hangings and other decorations minimal, so that potential buyers can imagine themselves in the space without feeling overwhelmed by all the items.
Home Staging Mistake #2: Forgetting to Declutter First
Before you begin staging your home, it's essential to declutter and get rid of any unnecessary items. That way, potential buyers can focus on the features of your home instead of being distracted by all the clutter. It's a good idea to use storage bins, baskets and other containers to keep items organized and out of sight.
Home Staging Mistake #3: Failing to Clean Everything
When staging your home, you want it to be squeaky clean—that means no dust bunnies, cobwebs or any type of dirt or grime. Take the time to thoroughly vacuum and mop all floors, wipe down surfaces such as countertops and tables, scrub the bathrooms and make sure everything sparkles.
Home Staging Mistake #4: Leaving Items on Your Closet Floors
Your closets should look neat and orderly when potential buyers come for a viewing. Take the extra step of organizing your clothes into sections so that buyers can easily see how much space is available. If you have items in your closets that you don't need, consider donating or selling them to free up the space.
Home Staging Mistake #5: Leaving Oversized Furniture in Cozy Spaces
While it may be comfortable for you to sit on a large sectional sofa, oversized furniture can make a small room look cramped and cluttered. So when staging your home, opt for smaller and more streamlined pieces that won't overpower the space.
By avoiding these five home staging mistakes, you'll be able to create a warm and inviting atmosphere without going overboard or creating an overly-cluttered environment. This will help potential buyers visualize themselves living in your home – which is one of the most important aspects of successfully staging a home.
Are You Buying or Selling a Home in Lakewood?
If you're not already living in Lakewood, or if you are but you're looking for a new home, we're here to help. Call us right now at 562-882-1581 or start browsing our Lakewood real estate listings to find your dream home today!
You can also browse:
Long Beach real estate listings
Bellflower real estate listings
Signal Hill real estate listings