3 Upgrades for a Posh Pool
Posted by Concierge Van Wig & Associates on Tuesday, June 8, 2021 at 10:00 AM
By Concierge Van Wig & Associates / June 8, 2021
Comment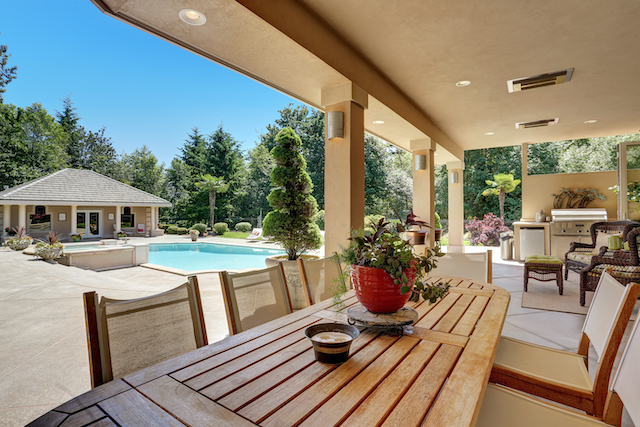 This summer season you may feel like taking the look of your pool to the next level. Consider these three ways to upgrade your pool area with changes that make a splash.
Level-up the landscaping
You can step-up the look of your pool by surrounding it with lush greenery using potted plants and avoid having to perform extensive landscaping. But take a beat before buying just any potted plant. You'll need hard-wearing greenery that can withstand heat and, equally as important, splashes of chlorine.
Plants add atmosphere to a space in a way that items like sculptures and furniture can't. They help create a sense of calm and relaxation. Imagine lounging around the pool and listening to the rustling fronds of potted palms, or being lulled by the sway of monstera leaves.
Potted plants are also a way to incorporate your personal style through pot design. You can carry your indoor design them outdoors, or opt for something new.
Create space for cooking and dining
It's pretty typical to have at least one way to cook in your backyard, perhaps a grill or a smoker. But what can really take your backyard to the next level is to create a dining area by bringing indoor living outdoors.
You don't have to do a whole lot to carve out a dining area. It can be something as simple as adding a bistro table and a couple of chairs—or to accommodate more people and add a little more comfort—a larger dining set with outdoor cushions. An umbrella for protection from the sun on especially hot days can complete the ensemble.
Add an outdoor shower
An outdoor shower can add lots of value to your pool area. A simple wall-mounted kit can run a few hundred dollars—you can spend more, if you're so inclined. If you already have a shower installed consider upgrading it. Add spa-like elements, like a bench to sit, and a place for towels, soap, shampoo, and conditioner.