3 Things You Can Do to Encourage Same-Day Offers
Posted by Allison Van Wig on Sunday, November 20, 2022 at 8:01 AM
By Allison Van Wig / November 20, 2022
Comment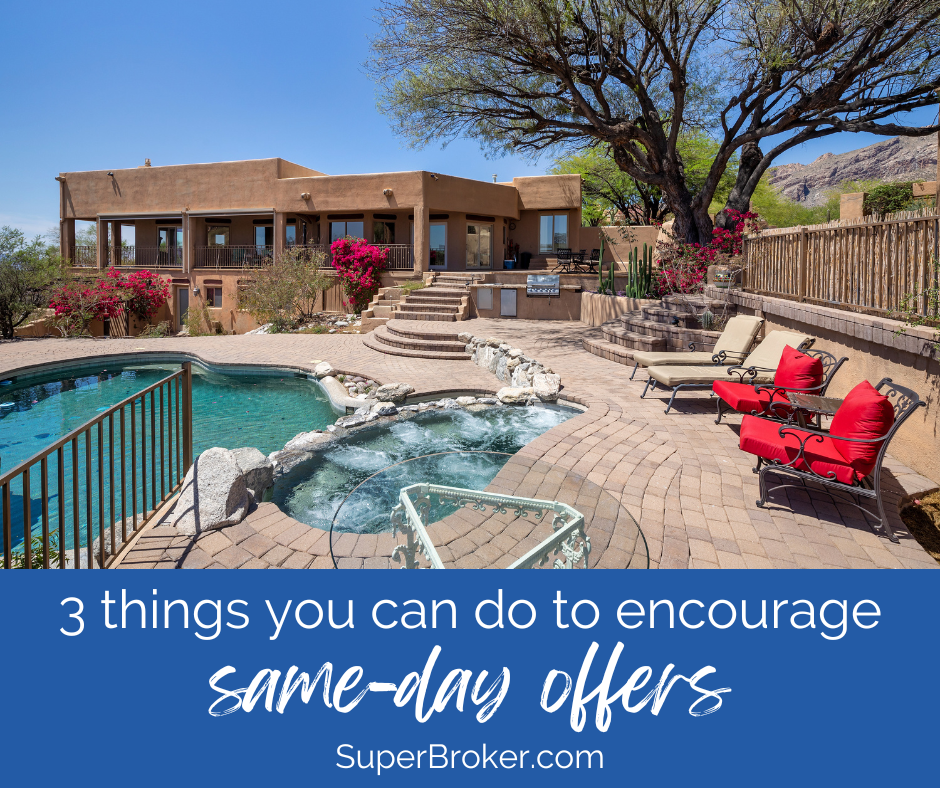 If you're like many people, you know that when a prospective buyer falls in love with the home, they make an offer right away. You probably also know that the longer a home sits on the market, the less likely it is to sell near its asking price. But what can you do to get prospective buyers so excited about your home that they make an offer the same day? This guide explains.
3 Ways to Get Buyers to Make an Offer Right After Seeing Your Home
Check out these three tips for encouraging prospective buyers to make an offer as soon as they leave your home:
1. Make sure your home is spotlessly clean.
2. Stage every room to help buyers imagine themselves living there.
3. Price your home properly right out of the gate.
Here's a closer look at each.
Tip #1 for Same-Day Offers: Make Sure Your Home is Spotless
When prospective buyers come to see your home, you're doing more than selling them four walls and a roof. You're selling them a lifestyle. That means you want to show them that your home is clean and easy to keep that way - and the best way to do that is to ensure that your entire space is spotless from top to bottom.
For many people, the best thing to do is to hire a professional cleaning company. The cleaning company will know exactly what to do to get your home in top shape. And even better, all you have to do is maintain what they've done while your home is on the market. However, if hiring a professional cleaning company isn't in the cards for you, you can DIY the job. Just make sure to view your home like a prospective buyer would, looking for areas that are often neglected in other homes and checking things out as if you would if you were looking at someone else's home as an option to buy.
Tip #2 for Same-Day Offers: Stage Every Room
Your real estate agent will most likely talk to you about home staging. Staging is the act of making your home and all of its spaces as appealing as possible to prospective buyers. That means making your home appear as large as possible, showing off great features and updates, and making sure you don't have any decor or furnishings that give buyers an unfavorable impression.
Sometimes this part of the selling process requires people to rent a storage unit. If you rent a storage unit, you can stash your additional furnishings, as well as other items that make your home appear cluttered, until you've sold your home. The upside to this is that some of your belongings are already packed and out of the way; all you need to do is retrieve them on your way to your new home. The downside, however, is that you're paying for a storage unit and you may have to pay to move your items there.
Tip #3 for Same-Day Offers: Price Your Home Right
Pricing your home properly is one of the most important things you can do to impress buyers. That's because many buyers are looking at other homes in the same price range - they know exactly what to compare your home to.
If your home is priced too high, the buyers who could afford it at the proper price won't even see it; the only people who will see it are those in a higher price range, and they'll be comparing your home to other homes that are properly priced. Yours is going to come up short. And naturally, if your home is priced too low, you're leaving money on the table.
The best way to price your home properly is to talk to your real estate agent and follow their guidance. Your real estate agent is incredibly familiar with the market and knows what other people are willing to pay for homes like yours. That's why it's so important to consult with your agent before settling on a listing price: Your home is only worth what someone is willing to pay for it, regardless of how much you owe or how much you've put into it.
Are You Buying or Selling a Home in Lakewood?
If you're not already living in Lakewood, or if you are but you're looking for a new home, we're here to help. Call us right now at 562-882-1581 or start browsing our Lakewood real estate listings to find your dream home today!
You can also browse:
Long Beach real estate listings
Bellflower real estate listings