3 Secret California Beaches for a Socially-Distanced Vacation
Posted by Concierge Van Wig & Associates on Thursday, April 29, 2021 at 11:23 AM
By Concierge Van Wig & Associates / April 29, 2021
Comment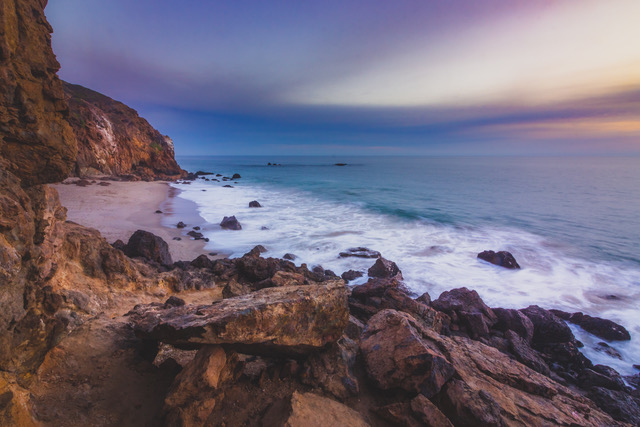 If you're looking to have some fun in the sun hunting for shells, bird watching, wiggling your toes in the sand, or simply being lulled by crashing ocean waves—but wish you could find a patch of beach off the beaten path—consider these three less-visited Cali beaches to steal away during your vacation.
Pirates Cove Beach, Malibu
There are two other beaches of the same name as Pirates Cove in Southern California—one in San Luis Obispo and the other in Corona Del Mar—and both are better known. Pirates Cove Beach in Malibu is tucked in a small cove on the west side of Point Duma and can be accessed from the southern end of Westward Beach. Westward Beach comes to an abrupt end at a high rock wall, and the cove is behind that wall. You can follow a path behind the boulders to go up and over to Pirates Cove. Ironically, the beach was famously used as a filming location for the 1968 movie Planet of the Apes, but today it's a low-key spot.
Table Rock Beach, Laguna Beach
This beach is easily missed by motorists traveling along Highway 1 since it sits in a deep cove beneath cliff-top homes. To get to the beach you can park along the highway and walk a block to Bluff Drive where you'll find the entrance to beach access. You'll descend a stairway to the sand, which continues out to the surf. During low tide you can peacefully walk or wade around the rock cliffs that extend into the water.
San Carpoforo Creek Beach, San Simeon
San Carpoforo Creek Beach is located in Hearst San Simeon State Park, and although the flow of water in the creek is small for most of the year, in the spring freshwater creates a small lagoon behind a sandbank at the back of the beach. To reach the ocean, you can walk out to the end of the creek, or find a shallow point to cross.